Pedors Classic Brown 605 Stretch Orthopedic Shoes For Swollen Feet
Are these shoes only for swollen feet?
The Pedors Classic are worn by people with some swelling in their feet, light edema, (but not by people with extremely swollen feet or lymphedema) and also by people with diabetes, bunions, hammertoes and forefoot problems and by people who need wide or extra-wide comfortable shoes. For people with extremely swollen feet or Lymphedema please see the Classic MAX.
What makes them so special?
They are lightweight and use a seamless stretch forefoot made from Pedoprene™. This material is excellent at accommodating the hard to fit foot very comfortably.
We formulated this material to be able to stretch where needed and be molded when necessary to accommodate the most demanding bunion, corn, hammertoe or other forefoot deformity to avoid discomfort or even pain.
The Classic comes with an EVA insole which is a ¼ inch thick to provide extra "plantar" or sole cushioning. This insole can be easily removed to accommodate orthotics or insoles if needed.
The adjustable single touch closure strap makes the shoe easy to put on and take off and easy and to adjust over the course of the day when swelling is present.
Please see the video at the bottom of this page for more information and be sure to check out the reviews below the videos.
Pedors Classic Shoes Video
Do you have my size and width?
Most likely we do. We have over sixty sizes and three widths in this style, Medium, Wide, Extra-Wide. If you are unsure what size to order you can refer to our size guide here.
Medium = B/C width
Wide = D/E width
X-Wide = EEE width
Do you offer free shipping? Free return shipping?
Yes we do offer free shipping to all 50 US states. Also if you need to send something back we pay for the return shipping too. Heck, we even ship the exchange (should you need one) back to you for free too. More info here.
What is your returns policy?
You may return undamaged items that are in new unused condition within 90 days of delivery for a full refund. We'll also pay the return shipping costs (USA only) if you want to exchange for something else or simply get 100% money back, no questions asked. We actively encourage you to try any product on the site. If the product does not meet your expectations we will gladly issue you a full, 100% refund. More information here.
What about Canada Free Shipping?
Use code CANADASHIP in your cart or at checkout to receive FREE shipping. Can not be combined with other codes. Return and exchange shipper is paid by the buyer. Customer is responsible for any import duties / fees / taxes
Do the shoes come with a warranty?
Pedors® products are warranted to be free of defects in material and workmanship for 6 months from date of purchase. Our warranty is an expression of our confidence in the material and workmanship of our company's products. This, however, is not a guarantee against normal wear and tear. Nor does it apply to product that has been damaged by misuse, neglect, accident, modification or unauthorized repair.
Can I use orthotics with the Pedors Classic?
Absolutely. You can either use your own or our Pedors 3P Inserts or Genext Orthotics.
How do I care for my Pedors Classics?
To clean the Classics you can place them inside the wash bag that came with the shoes (or an old pillow case) and put them in the washing machine on a gentle cycle, low temperature. Then let them air dry for about 24 hours (somewhere warm). Do not put them in a dryer as this may damage the glue in the shoes. For smaller cleaning, simply wipe down with a damp cloth and some soapy water. See video below.
More Questions?
Call 800 750 6729 Monday through Friday, 8:30 am - 5:00 pm EST or use the chat / message function at the bottom of your screen.
Pedors 3P Inserts Video
Genext "Beats" Orthotics Video
Pedors Classics Washing Instructions
Pedors Pedoprene™ Material
Site Security & Authenticity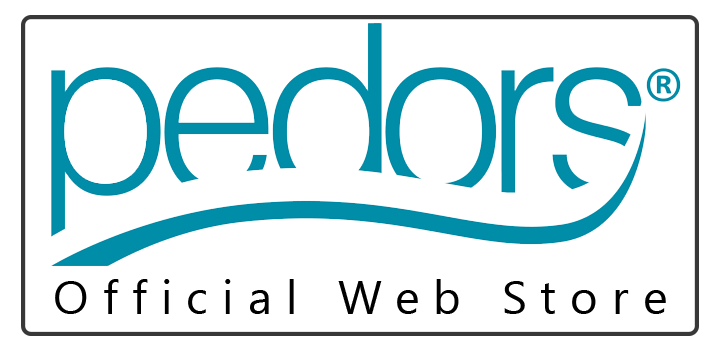 This entire pedors.com website is secure and encrypted, not just the shopping cart. Click the padlock in your URL bar at the top of your screen for more information. The padlock is usually green but can be different colors in different browsers.

Click the GeoTrust Secure badge at the very bottom of your screen to get more information regarding our Secure Certificate.


We accept:

You may return undamaged items that are in new, unused condition within 90 days of delivery for a full refund. We'll also pay the return shipping costs if you want to exchange for something else or simply get 100% money back, no questions asked. For returns falling between 60 and 90 days; we may need to contact you for your credit card details to process your refund. For your security, our system does not have access to your information after 60 days but we still wish to give you the option to return product up to our 90 Day Guarantee window. We apologize for any inconvenience this causes.