A few more weeks and we're headed towards that time of year - late summer - what I call the Plantar Fasciitis season.
Sometimes it starts early in late July but more often than not it really hits in mid to late August and then gets full blown in September. That's when the phone really starts ringing.
The first batch of callers are from the southern, warmer parts of the US, but by September the rest of the country has caught up. It all depends on the weather and how early on in the year people decide to do away with their shoes and sneakers and start wearing flip flops. This year, Groundhog Phil has predicted that the "PF" season will start late.
The influx of calls into the Pedors customer service department are to complain of heel pain and to ask if we have a shoe that can help with that. It's part and parcel of offering "Fantastically Functional Footwear™" and our staff are trained to help people solve their footwear problems - as best they can on the other end of a phone line.
"My doctor tells me that I have plantar fasciitis and I'm looking for a pair of shoes that will help for that" is typically how the conversation starts. What they really mean is that they need a pair of shoes that can offer the depth needed in a shoe to accommodate a functional orthotic that will provide the support to plantar fascia muscle that's been stretched to the max over the course of the flip flop or sandal wearing season and needs help during the recovery process in the form of an orthotic for plantar fasciitis.
The causes of plantar fasciitis are quite simple to understand and in most cases fairly easy to rectify. Plantar fasciitis is mechanically induced heel pain and accounts for approximately 70% of all heel complaints. Typically it starts as a dull ache on the inside part of the heel (plantar medial calcaneal tubercle) and develops into a sharp pain with the first step taken in the morning, which then eases up as the fascia muscle warms up. The condition will however persist with vigorous activity if the muscle is not given the chance to recover.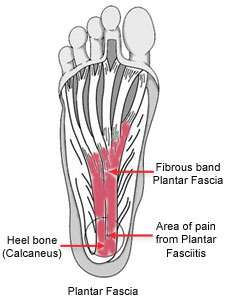 Causes are variable but are related to any condition that creates an abnormal force pulling upon the plantar fascia and medial intrinsic foot muscles attached to the calcaneus. Usually it's due to a seasonal lack of support.
So if it's too cold to bare your toes, chances are you're wearing a pair of shoes with some support for your plantar fascia muscle. It's when you ditch the shoes for a pair of flip flops without any arch support that you run might run into problems, especially as you get a little older, out of your twenties and into your thirties and beyond and your arch needs the extra help.
So what's the answer? The best preventative action would be to choose a pair of flip flops or sandals each Spring that offer arch support. Plan on buying them well before the summer season starts as you'll have a better chance of getting the ones you want and they'll be there when that first day of summer pops up unexpectedly. There are quite a few brands to choose from and it's best to be fitted for them at a Pedorthic Shoe store but two that I would recommend would be Finn Comfort or Orthaheel.
If you've already discovered the pain of plantar fasciitis for the first time, then the best thing you can do is give the arch in your foot the help it needs while it recovers. The best way to do that is with a functional orthotic device. Custom molded orthotics are the best but they can also be expensive. Your local Podiatrist, Pedorthist or Orthotic and Prosthetic facility will take a mold of your foot and fabricate a pair for you. It typically takes a week to ten days or so from the mold process to when you go back to pick up your orthotics, expect to pay around $250 or more.
A more affordable over the counter orthotic can work for most people but be careful to choose one that has rigid support in the arch of the foot. Obviously I like and recommend the The Pedors Genext Orthotic are $60 per pair but there are others out there as well that are good – just not as good as ours. :-)
The personal views and ideas of Stephen O'Hare, President of Pedors Shoes in no way reflect the views of the Pedors Shoe Company, the staff, friends or family members - especially his family members.