A Five Minute Guide To Shoes For Edema, Lymphedema & Swollen Feet
If you have swollen feet due to Edema or Lymphedema or any other reason, finding shoes that fit, or even shoes that you can get on, can be a source of frustration.
In this quick guide we will define and talk about the differences between Edema and Lymphedema and then discuss what to look for in shoes for those conditions.
If you already have a good background knowledge of Edema and Lymphedema you may want to jump straight to the information about shoe recommendations for swollen feet.
---
Edema is a term used to describe the swelling of a body part due to fluid accumulation in the body tissue which occurs when tiny blood vessels in your body (capillaries) leak fluid that builds up in the surrounding tissues. Although Edema can affect any part of the body is is most likely to be in the arms, hands, legs, ankles and feet and this is known as Peripheral Edema because it is evident on the periphery (the ends) of your body.
Lymphedema also refers to swelling in one arm or leg (or both at the same time) but the causes for this swelling are different from general Edema / Peripheral Edema. Lymphedema is most commonly caused when lymph vessels are damaged or lymph nodes are removed (as part of cancer treatment) which results in a blockage in the lymphatic system that prevents lymph fluid from draining properly which in turn leads to swelling.
What Causes Edema?
Mild Causes
Sitting Too Long
Too Much Salty Food
Pregnancy
Premenstrual signs / symptoms
Medication Causes
Steroids
Estrogens
High Blood Pressure Medications
Anti-Inflamatory drugs (non-steroidal) Thiazolidinediones (a type of diabetes medication)
Disease Causes
Cirrhosis
Kidney Disease / Kidney Damage
Congestive Heart Failure
Weak or Damaged Veins
Long-Term Protein Deficiency
Symptoms
Swelling or puffiness of the tissue directly under your skin, especially in your legs or arms
Stretched or shiny skin
Skin that retains a dimple (pits), after being pressed for several seconds
Increased abdominal size
What Causes Lymphedema?
Primary Lymphedema develops when lymphatic vessels are missing or impaired. More common in younger women, Primary Lymphedema can start near birth, around puberty or later in life.
For both upper and lower extremities Primary Lymphedema is estimated to affect 1 million individuals and Secondary Lymphedema about 2 million individuals in the USA.
Secondary Lymphedema is most commonly caused when lymph vessels are damaged or lymph nodes are removed and there can be a variety of causes including malignancy in breast cancer, where the lymphatic channels are compressed or metastasis can occur in the lymph nodes. Trauma and surgery where the lymph nodes are removed, radiography and chronic infection which can result in fibrosis and eventual lymphatic obstruction.
Symptoms
Swelling of part or all of your arm or leg, including fingers or toes
Hardening and thickening of the skin (fibrosis)
A feeling of heaviness or tightness
Restricted range of motion
Aching or discomfort
Recurring infections
What are the best types of shoes for Edema / Lymphedema / Swollen Feet?
Find Shoes That S-T-R-E-T-C-H
When choosing footwear for swollen feet the shoes need to be deep and wide with the option to add supportive inserts. As the foot swells over the course of the day a velcro or hook and loop closure makes it easier to adjust the fit of the shoe during the day. Shoes that can stretch to accommodate change in volume of the feet during the day is a must have feature.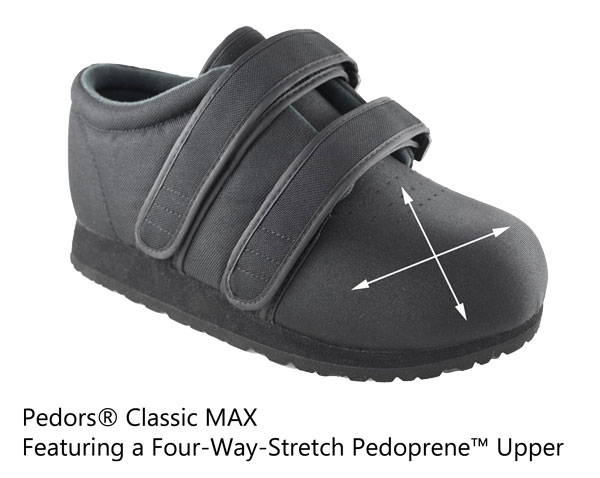 "Pedors shoes provided excellent accommodation for my patient's very edematous feet. I highly recommend them." Deb Speed, PT
How Do I Find The Right Size & Shoes For Me?
Much of what will work for you will depend on how swollen your feet are. To determine your foot width (that helps to determine what shoes are suitable for you) please refer to our handy sizing widget. It takes just a few minutes to get your measurements and work out what is the best size and width for you.
---
Once you have determined your correct width, or if you know it already, select your width below to see which styles are available in your width.
We aim to get your order out to you as quickly as possible and with warehouses on the East and West Coasts of the USA we can usually get your shoes delivered to you within seven days. Expedited shipping is available. Standard shipping to all 50 US States is FREE.
Secure Website & Payments
This entire website is secure and encrypeted. We have many payment methods from which you may choose. Visa, MasterCard, Discover, American Express, PayPal, Amazon Pay, Visa Checkout, Klarna Credit, PayPal credit.