Hi everyone,
Today I thought I would share with you my favorite bean and vegetable recipe which is sure to warm you back up after a brisk winter walk.
I do most of the cooking in our house as John works full time, (plus some!), and our almost-four-year old Benjamin hasn't quite yet mastered the skills that cooking requires.
We live in a small seaside town in France called Menton which sits right on the Franco-Italian border. On a typical day I walk Benjamin down the steep hill we live on and into town for him to go to school. It's about a 15 minute walk down some steep steps (sentiers) and we walk fast and play word games to practice our French on the way down the Montagne. Walking back up, sans Ben, is a lot less enjoyable!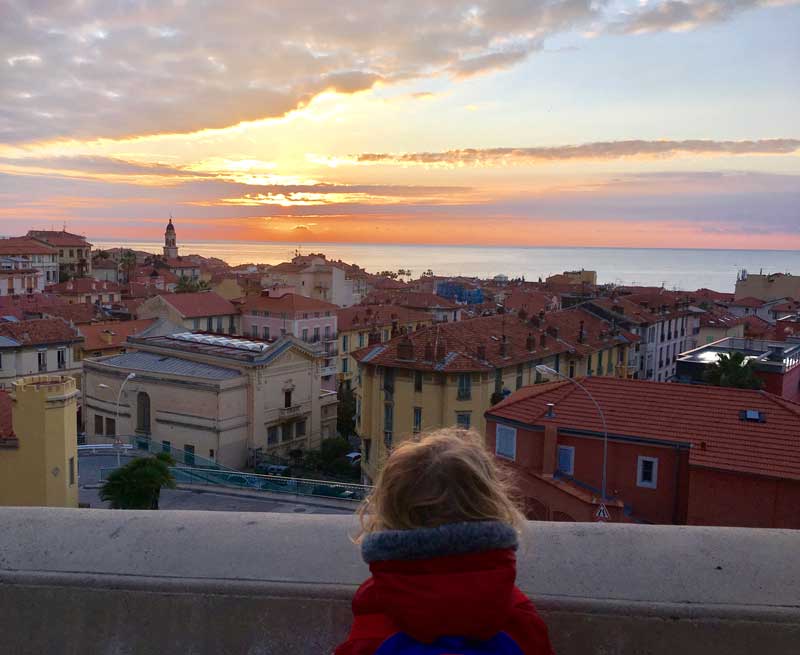 Ben looking out over the half-barrel tiled roofs of Menton.
After I leave Ben at the school gate, (which these days he happily runs through after a shaky start), I continue on to our local covered market. Living in the South of France there is an abundance of fresh fruit and vegetables available, not only in the supermarkets, but also in the famed local fresh food markets. For that reason I like to incorporate fresh produce in my dishes as much as possible. Of course in winter almost all of the fresh produce will have been grown elsewhere and brought in, but I put that out of my mind as I keep the "fresh local produce" dream alive in my mind.
It's so nice to wander around the stalls selling fruit, vegetables, cheese, meats, cured meats, honeys, breads and other yummy baked goods. John really loves the masses of different types of olives.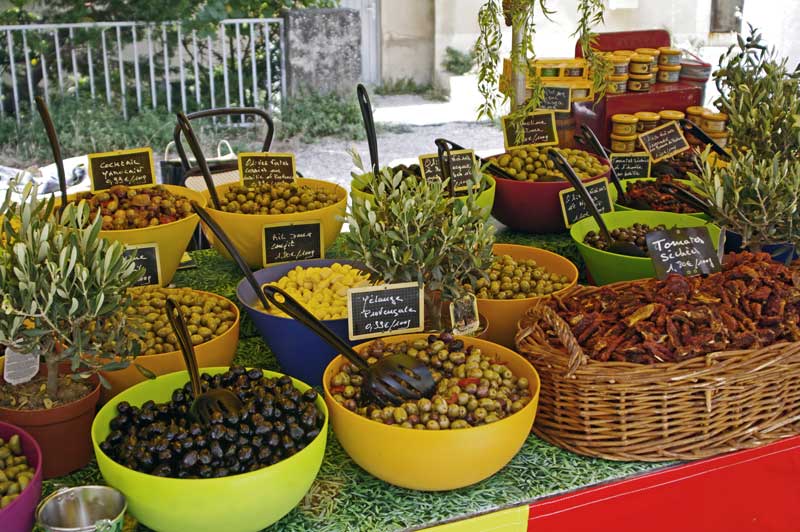 After I pick up all the vegetables I need for my dish, I am ready to cook.
Helén's Warming Winter Walker Vegetable Bean Dish Recipe
I've been making this recipe for a while now, and it is one of my favorites. This amount serves six people. I get two days worth of dinner from it, which is always a plus in my book.
Oil for frying (add butter optional)
1 onion, chopped
1 red pepper deseeded and chopped
1 yellow pepper, deseeded and chopped
1 green pepper, deseeded and chopped
2 zuccinis, chopped
10 mushrooms, chopped
1 tbsp cumin
1 tbsp mixed herbs
2 14 oz cans of chopped tomatoes
2 15 oz cans of red beans, drained
Heat the oil in a large saucepan and add the onion. Fry on medium heat until soft. Add the peppers and zuccini. Fry for a few minutes, stirring occasionally. Add the mushrooms and continue to fry (and stir) for a few more minutes. Add the cumin and mixed herbs and mix well. Add the tomatoes and beans and mix well. Bring to a boil, then simmer.
I like to leave everything simmering with a half lid on, for at least an hour. Because there is quite a lot of veg in the saucepan it will need this amount of time for the vegetables to cook. I also like the tomato base to thicken, and have a silky look to it.
Keep in mind that there is a lot of flexibility with this dish.
Any vegetables can be included in this recipe so feel free to mix and match.
You can also replace the red kidney beans with other beans, depending on your preference.
Also, more or less seasoning can be used.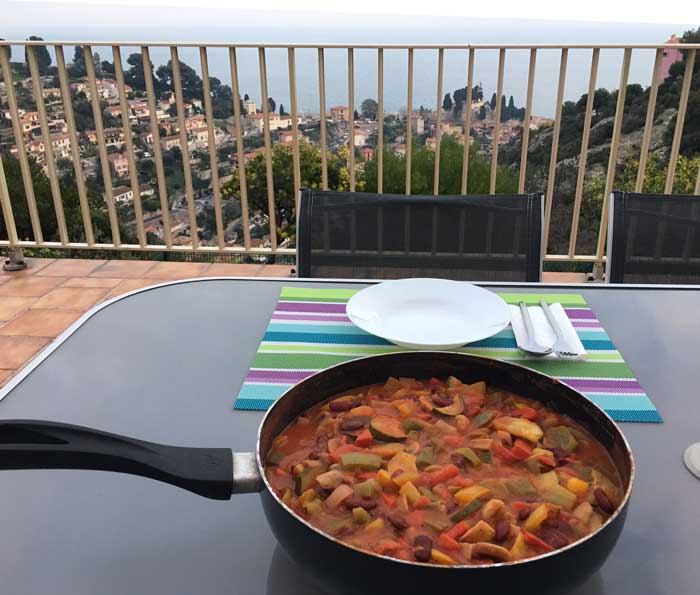 It's quite an overcast day today so the colors didn't really pop in the photograph, but it is nice and colorful in real life.
You can serve it with couscous or rice. Oftentimes I don't even bother serving it with anything except some bread or crackers......and maybe even with a small glass of wine!
Happy cooking! Enjoy!
Helén