The Pedors Stretch Walker Extra Depth Shoes For Swollen Feet & Hammertoes
Are these shoes only for swollen feet or hammertoes?
The Pedors Stretch Walker are extra depth shoes designed for people with swollen feet, hammertoes, forefoot problems and braces. They are also worn by people who have a need for very deep and wide shoes due to substantial orthotic devices, bandaging or other foot problems.
What makes them so special?
The Stretch Walkers have many useful design features.
The stretch panel in the top of the shoe which is great for people with hammertoes.
The double touch closure of the shoe offers a quick and easy way to place the foot inside the shoe. Often this design is chosen when the shoe is fitted with an orthotic such as the Beats Orthotic or the Pedors 3P Insert or a bracing device. This type of closure is also preferred by people with arthritis and people with difficulty reaching their feet to get there shoes on and off.
Three layers of insoles offer extra depth providing a solution for leg length discrepancy where one leg is longer than the other which can help bring the hip and the lower back into alignment.
This shoe was designed with a wide mid foot to create enhanced medial and lateral stability. As people age muscle strength in the leg supporting the knee and ankle can diminish. This can lead to difficulties in maintaining balance and "postural sway" which can in turn lead to a fall. The right "balanced" footwear often fitted in conjunction with a balance foot device, can help reduce the risk of fall and is considered a key component of fall prevention. Seek professional guidance from your local Podiatrist to assess the risk of fall and the need for a footwear fall prevention strategy.
Be sure to read the reviews for this product at the bottom of the page.
Video of the Pedors Stretch Walker Extra Depth Shoes For Swollen Feet & Hammertoes
Do you have my size and width?
Most likely we do. We have over sixty sizes and three widths in this style, Wide, X-Wide, XX-Wide. If you are unsure what size to order you can refer to our size guide here.
Wide: This is a D/E width
X-Wide: This is a 2E/3E width
XX-Wide This is 4E/5E width
However, as the upper features our unique Pedoprene™ material, the Pedors Stretch Walker will stretch to accommodate a slightly wider foot than 5E.
Do you offer free shipping? Free return shipping?
Yes we do offer free shipping to all 50 US states. Also if you need to send something back we pay for the return shipping too. Heck, we even ship the exchange (should you need one) back to you for free too. More info here.
What is your returns policy?
You may return undamaged items that are in new unused condition within 90 days of delivery for a full refund. We'll also pay the return shipping costs (USA only) if you want to exchange for something else or simply get 100% money back, no questions asked. We actively encourage you to try any product on the site. If the product does not meet your expectations we will gladly issue you a full, 100% refund. More information here.
What about Canada?
Use code CANADASHIP in your cart or at checkout to receive FREE shipping. Can not be combined with other codes. Return and exchange shipping is paid by the customer. Customer is responsible for any import duties / fees / taxes.
Do the shoes come with a warranty?
Pedors® products are warranted to be free of defects in material and workmanship for 6 months from date of purchase. Our warranty is an expression of our confidence in the material and workmanship of our company's products. This, however, is not a guarantee against normal wear and tear. Nor does it apply to product that has been damaged by misuse, neglect, accident, modification or unauthorized repair.
Can I use orthotics with the Pedors Stretch Walkers?
Absolutely. You can either use your own or our Pedors 3P Inserts or Genext Orthotics.
How do I care for my Pedors Stretch Walkers?
Simply wipe down with a damp cloth and some soapy water.
How heavy are they?
Due to the durable nature of the outsole and the sturdiness of the leather, these shoes are about the weight of tennis sneaker.
Materials
The material used in the upper panel is known as Pedoprene™ and is unique to the Pedors® brand. The rest of the upper is leather.
We formulated Pedoprene™ to be able to stretch where needed and be molded when necessary to accommodate the most demanding bunion, corn, hammertoe or other forefoot deformity to avoid discomfort or even pain.
The Stretch Walker has three inserts that can be removed to offer 9/16ths of removable depth. This extra depth feature can accommodate either a functional or dynamic custom orthosis or a protective comfort prefabricated insert when necessary as well as bracing.
The adjustable double touch closures makes the shoe easy to put on and take off and easy and to adjust over the course of the day when swelling is present.
More Questions?
Call 800 750 6729 Monday through Friday, 8:30 am - 5:00 pm EST or use the chat / message function at the bottom of your screen.
Pedors Black Stretch Walker and Orthotics
When orthopedic shoes are fitted with additional arch support in the form of a functional foot orthotic like Genext Orthotics or an accommodative orthotic such as the Pedors 3P insert a number of foot problems like flat feet, plantar fasciitis (heel pain) can be addressed.
Video of Pedors 3P Inserts
Video Of Genext Active "Beats: Orthotics
Site Security & Authenticity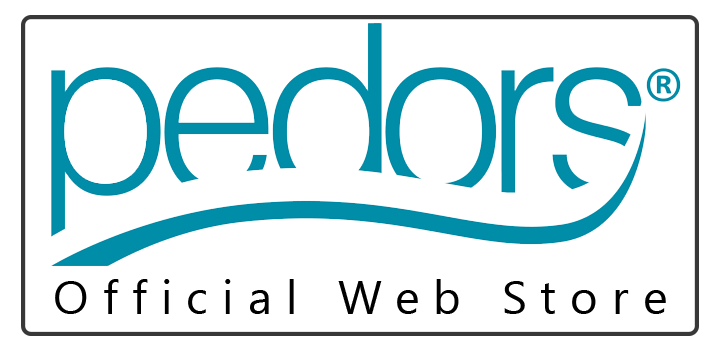 This entire pedors.com website is secure and encrypted, not just the shopping cart. Click the padlock in your URL bar at the top of your screen for more information. The padlock is usually green but can be different colors in different browsers.

Click the GeoTrust Secure badge at the very bottom of your screen to get more information regarding our Secure Certificate.


We accept:

You may return undamaged items that are in new, unused condition within 90 days of delivery for a full refund. We'll also pay the return shipping costs if you want to exchange for something else or simply get 100% money back, no questions asked. For returns falling between 60 and 90 days; we may need to contact you for your credit card details to process your refund. For your security, our system does not have access to your information after 60 days but we still wish to give you the option to return product up to our 90 Day Guarantee window. We apologize for any inconvenience this causes.